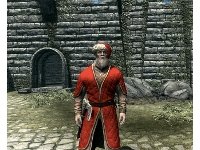 Holiday Video Game Discount Alert
Last week I listed the
top five video game-related items
that should be on every gamers wishlist this season. I also mentioned that many games will be seeing price drops over the next few weeks. Well, the drops have begun and two big A-list games have already gone cheaper.
Uncharted 3: Drake's Deception
The latest game in the Uncharted franchise has been out for a couple of months now. If you resisted the rave reviews and decided to hold off on dropping the usual $59.99 on the game brand new, you are in luck. Many sites, including
Amazon.com, have dropped the price for Uncharted 3 down to $49.99 for a limited time.

That's a 17% discount on a well received, top rated game that has only been out for a little over a month. That's also called a great holiday deal, so get on that one asap gamers!

Batman: Arkham City

The the latest hit Batman video game, reviewed a few weeks back on this very blog (shameless self-promotion) for $39.99. That's $20 below the regular price. For gamers like me, this is proof positive that getting the game on release day, pre-order bonuses aside, can sometimes be foolish. Waiting a month can often lead to cool discounts like these.

That's especially the case when titles release during or around the Holiday Season. I've seen this online at both Gamestop and Amazon, but not at Best Buy, so it looks to be an exclusive discount at a select group of retailers. Again, it's for a limited time, expiring in a few days.

While Skyrim has seen discounts across the UK, it is still being listed at full price at US online retailers. But fingers crossed--it might just drop slightly the closer we get to Christmas.

My own personal win was picking up the Xbox 360 version of Need For Speed: The Run at Best Buy for just $30.00.

What have you guys saved on so far? Or, if you're waiting on certain games to drop in price, which ones exactly? FYI, I searched to see if more family friendly titles like Just Dance 3 or Mario Kart 3DS were on sale yet and really didn't find anything beyond a couple of $4 savings here or there.

Until next week, be sure to follow the video game discussion over on Twitter @SavingsGCapes.