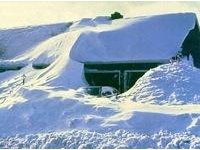 Home Free: Nine Steps to Prepare Your Home for the Winter Weather Forecast
This is the time of year when a cold snap can come in anytime and catch you by surprise if your home not yet prepped for winter. I'll explain nine things to check in preparing your home for the coming winter season with my easy
home winterizing checklist
.
Heating System: Your home's heating system is the front line of defense in keeping your home warm. You need to make sure the furnace or boiler is working before you need it. In my Home Heating Checklist, I walk you through six things to check, ranging from basic operation to replacement of the air filter to detection of carbon monoxide leaks.


Air Conditioner: Your window air conditioner or central air conditioner condensing unit needs a little prepping too in order to make it through the winter. You need to prepare the condensing unit for storage including cleaning our leaves and covering the condenser.


Chimney and Fireplace: A wood burning fireplace and chimney can be a major source of cold air leaks and other issues in winter. Make sure to check and inspect your fireplace, including making sure the flue operates properly and checking your firebrick.


Plumbing: Burst pipes from freezing can cause some of the most expensive repairs in the home. Learn how to protect your plumbing from freezing, how to heat and insulate your pipes and why it is critically important to remove your hoses from any outside faucets.


Insulation: There are some simple insulating tips to reduce energy costs like getting an insulating blanket for your water heater, foam sealing gaskets for outlets and blocking fireplace drafts with a piece of fiberglass insulation.


Weather-stripping: An easy way to reduce you heating bill from infiltration is to reduce these drafts of doors and windows with simple weather-stripping.


Roof and Gutters: Check your roof and gutters for leaves and debris. Frozen wet leaves in gutters are major source of damage.


Sprinkler System: Another key element of your home winterization plan is winterizing your sprinkler system to prevent your lines from bursting.


Landscape: Lastly comes preparing your landscape and equipment for the winter including outdoor deck, furniture and lawn equipment preparation.
By taking a few hours and preparing your home for winter you can get closer to a trouble free winter and just sit back and enjoy the scenery!

Bob Formisano is an architect and builder with over 25 years experience in home renovation, architectural design and construction and writes on home repair for About.com as their Home Repair Guide (author). In 2004 Bob also founded Home-Cost.com, a website providing on-line new home building construction cost estimating.