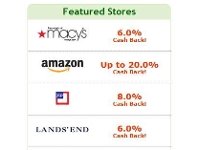 How Ebates and other cashback sites can save you money on almost everything
You already know the value of checking
Savings.com's coupons
for codes that can score you big savings on your online purchases.
But did you also know you can save even more by using a cashback service as well?
I'm talking about services like
Ebates
,
FatWallet
, and
TopCashBack
, which work much like a Discover card: Buy a product, then get back a percentage of that purchase.
For example, I recently ordered a new laptop from HP. Having found a coupon code here at Savings.com, I knew I could save $30 right from the get-go.
Before getting to the checkout page where I could apply that code, however, I headed to Ebates. It's one of many, many cashback sites, and the one where I do most of my, er, cashbacking.
After a quick search for HP, I learned that Ebates was offering a 5% rebate. One click and I was ushered through to HP's online store, where I could make my purchase just like I normally would. And I could still use my coupon code. (Heck, if I'd had a Discover card, I could have used that, too. Triple savings!)
Most cashback sites work the same way: Choose the store where you want to shop, click through to that store, then do your shopping. That's literally all there is to it. After a day or two you'll receive a confirmation e-mail from the cashback site noting that your rebate is in the works.
Now, the works can take time. Your rebate, which usually comes in the form of a check or PayPal deposit, probably won't arrive for at least 90 days. If you make additional purchases in the interim, they'll get added to your payout.
The percentage varies from cashback site to cashback site and, within those sites, from store to store. (Want to know which site has the best percentage for any given store? Head to
Savingcashback.com
.)
You might get 2% here, 5% there, maybe even 10% from some stores. It may not sound like much, but it adds up. And because it's so easy to integrate into your shopping experience, it's downright crazy not to take advantage of it. By the time you get your refund, you could be looking at a decent chunk of change.
To the casual observer, cashback sites probably sound too good to be true. I'm here to tell you, they're not. I've used Ebates successfully for nearly a year, and in that time I've received nearly $200 back -- money I simply wouldn't have saved otherwise. What's not to like?
Have you had any experiences with cashback sites -- good, bad, or otherwise? Tell me about them in the comments!
(Source:
Savings.com
)