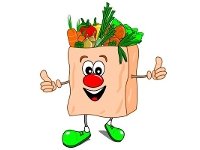 Forgot Your Coupons? No Worries!
Even the thriftiest of shoppers has been there: You find yourself in the grocery store but your coupons are elsewhere.
Here are four strategies to save without coupons:
1: Head straight to the clearance section! Often both the bakery and meat department have items marked down for quick sale because they are approaching the "Sell By" date. And some stores also have a table or shelf full of discontinued products. It's worth checking out whether you have coupons or not!
2: Buy store brands. Yogurt, butter, sour cream, spices, baking ingredients and canned goods are just a few of the items that usually provide more bang for your buck than name brands. I don't know about you but to me, sugar is sugar no matter what the packaging looks like!
3: Go Seasonal: Asparagus is more abundant in Spring, corn, tomatoes, blueberries and strawberries and watermelon in Summer, pumpkins and squash in the fall. Turkeys are on sale around Thanksgiving and Christmas, hams and lamb around Easter.
4: Buy Whole Foods: (Not Whole Foods, the store.) Whole foods that have not been cut, peeled, mashed and chopped for you. I have actually been tempted to remove these items from the carts of fellow shoppers! Are you really that pressed for time you can't peel a carrot or hard boil an egg?