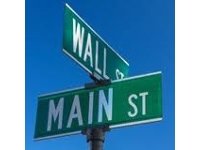 Support Main Street AND Save Money
We've all heard that if we want to help change our broken financial system we need to support Main Street, NOT Wall Street.
They say we need to put our money where our mouth is by buying our goods and services from the local businesses that are the nuts and bolts of our American economy.
But what about that age old issue I have every time I step into a Home Depot rather than my local hardware store? The cold hard reality is that buying from big companies is often cheaper than buying from small businesses.
That's why I go to Home Depot…to save money. I mean we all need to save money these days, right?
But this is America, where money talks and you-know-what walks. The more of our money we keep spending with big companies just helps them grow bigger and keep caring less about us consumers.
So how exactly can you support Main Street and still save money doing it?
One easy thing you can do is to bank locally at your local credit union or community bank, instead of one of those big Wall Street banks.
I switched to a local bank (Wedbush Bank) a few years ago and have never been happier or more pleasantly shocked at the benefits. I knew I'd get better customer service…but I also save money and hassle on things I did not even think I would.
Local banks have a relationship with each of their clients, have a commitment to you and the community you live in, don't have the same attitude as those "too big to fail" banks and want to learn about you and/or your business.
And there will be extra savings in your pocket!


SAVINGS #1:
Check to see if your current bank charges you to use their own ATM or another institution's ATM. Most community banks will not charge for either! That means you could go to any bank's ATM and not get charged for withdrawing money.


SAVINGS #2:
Most banks will not charge consumers for online banking, but they do charge you for bill payment services. They shouldn't and most local banks do not charge for this.


SAVINGS #3:
Community banks normally give you discounts if you transact online. Your bank gets a discount on electronic funds transfer transactions so you should too!


SAVINGS #4:
Earn more interest on your savings. In general, interest rates are more attractive at community banks.
These benefits have definitely helped me save money since I switched to a local bank.
And what about you? Do you have a great local credit union or bank that you think is awesome and would help other people save money and hassle?


Then leave a comment below and tell the rest of us what you like about your bank!
Agatha Kulesza is an accounting nerd and the owner of Agatha K LLC. She believes dealing with money doesn't have to be a boring snorefest and shows people how to be better with their money by making it simple and fun. To get more free money tips from Agatha sign up at www.Agatha-K.com.