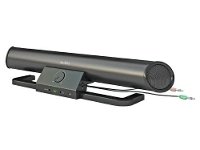 How To: Get Better Sound From Your TV
If your HDTV is anything like mine, it doesn't sound very good.
Ironic, isn't it? The latest LCD and plasma panels dazzle the eyes with their gorgeous colors and razor-sharp images, but disappoint the ears with weak, muffled, bass-less audio.
Blame their designs: today's super-thin TVs just don't have
room
for much in the way of speakers. That's why I highly recommend adding some kind of external speaker system. Whether you spend $50 or $500, you'll vastly improve the quality of the sound you're hearing.
For example, suppose you purchased a smallish TV for your den or bedroom. It probably has small, down- or rear-facing speakers that sound atrocious.
Got an old set of PC speakers lying around? Plug them into the TV's headphone jack and you should enjoy much louder, clearer, fuller sound.
Failing that, look for a mini-soundbar, the kind designed to clip on top of a laptop's screen. These work just as well with small HDTVs. One affordable option: the
Kinyo PC-269 Sound Bar
, which sells for around $26. The only hitch: it requires a powered USB port, which not all TVs have.
If you're looking for something with a bit more oomph, consider the
Zvox Z-Base 220
, a robust speaker system contained in a single cabinet that sits under your TV. It's on the pricey side at $199.99, but I've got one and it sounds fantastic. You won't be disappointed.
Zvox also offers larger models designed to pair with larger TVs, like the one in your living room. However, you might also want to consider a more traditional sound bar, which pack big sound into a slim, tube-shaped cabinet that sits below the screen.
The best bang for the buck by far? TigerDirect is currently offering the refurbished
Vizio VSB200 Sound Bar for $69.99 shipped
. This model offers six speakers, simulated surround sound, and very favorable reviews from nearly 700 buyers.
Another option is to dig out your old stereo receiver and speakers (or find some cheap at a garage sale), then connect your TV's audio-out jacks to one of the receiver's inputs.
Whatever tack you take, trust me when I say you'll be blown away by the difference external speakers make. After all, you invested a good chunk of change to give your eyes a treat; don't your ears deserve the same happiness?