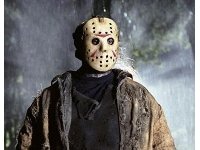 Recreate Jason of Friday the 13th's Look for a Halloween Costume (and more!)
Halloween
is right around the corner. Men, unlike women, do not like to shell out money for one outfit they will probably never wear again. You can save money, buy something you would wear and still have a costume. Go as Jason Voorhees! Remember the movie "Friday the 13th"? The iconic hockey mask is that extra accessory you may not find useful unless you play rollerblade or street hockey.
The rest of the terror ensemble you can buy at
Macy's
.
Last but not at all least…
Why buy a costume you will only wear once when you can buy a look you can wear often? Which horror character would you dress up as on Halloween?
Charli "Chuck" Gulley is a screenwriter, filmmaker and freelance writer who lives in Southern California. Quite the tomboy, she enjoys Rugby, Fencing and touch football. She's an alumnus of the prestigious screenwriter's workshop, "Writers Bootcamp." Her passion is Hollywood, anything and everything to do with filmmaking. If you don't find her on set, you can find her at the arcade playing air hockey and eating pizza.