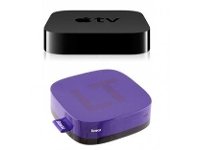 How to choose between Apple TV and a Roku box
In case you're unfamiliar with these products, they're each about the size a hockey puck, each intended to plug into one of your HDTV's HDMI ports.
Both boxes stream content to your TV from a variety of sources, including Netflix, Hulu Plus, and Pandora. Neither requires you to pay any extra monthly fees except for the regular costs of services like Netflix and Hulu Plus. And both can be had for under $100 (more on that in a bit).
I've used an Apple TV and various Roku models for a while now, and I'll profess to loving them equally. That said, each has its pros and cons, and those are worth considering as you weigh your buying decision.
You don't have to be a resident of Apple's ecosystem (i.e. the owner of a Mac, iPhone, iPad, etc.) to get a lot out of the Apple TV -- though it helps. Right out of the box it can stream from the likes of Netflix, Hulu Plus (a recent addition), all the big premium sports networks (MLB, NHL, etc.), and YouTube.
And if you do own an iDevice, you can wirelessly beam music, photos, and more directly to your TV. I love this feature for big-screen slideshows of the movies and videos I've shot on my iPhone.
Apple TV also affords "mirroring," meaning you can actually see your iPhone or iPad's screen writ large on your TV -- great for games and other apps.
However, the little black box doesn't support popular content providers like Amazon Instant Video, HBO Go, and Pandora (though you can stream this last from your iDevice if you have one).
Roku boxes offer a much wider selection of channels -- pretty much every service I've mentioned so far, plus smaller but growing movie services like Crackle, Epix, and Vudu.
The only big name Roku doesn't support is YouTube, a head-scratching omission. There are workarounds (Google them), but if you're keen to watch cute kittens and "Gangnam Style" parodies on the big screen, you won't find them here.
Because the LT is limited to 720p video output, it's better suited to smaller TVs. If you own something larger than, say, 40 inches, I'd recommend the Roku 2 XD, which for $79.99 affords 1080p video (same as the Apple TV).
Ultimately, I think for most users a Roku box is the better buy, if only because it supports more streaming services and can be had for as little as 50 bucks. But if you're already vested in the Apple ecosystem, it's probably worth going the Apple TV route so you can take advantage of various iDevice-specific features.