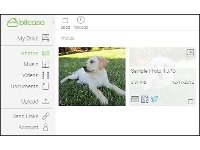 How to dip your toe into the wonderful world of cloud storage--for free
You. Yeah, you. I know what you're thinking. "I don't need this whole cloud thing. It's too confusing. And, anyway, nothing bad will ever happen to my data."
That's some serious denial you've got going on there, kid.
For starters, data loss isn't a matter of "if"--it's a matter of "when." And occasionally copying important files to a backup drive won't do you a lick of good if a virus chews through your system or a fire/tornado/hurricane takes out your house. Oh, and don't forget theft. Burglars love to make off with laptops and the hard drives connected to them. (Sorry for the scare tactics, but it's time for some tough love!)
As for confusing, I agree that some cloud services are an unitutive mess. But there's one I find admirably easy to use, and it's more versatile than most. Also, you can get a big chunk of storage space for free and earn more by performing a few simple tasks.
It's called
Bitcasa
, which I believe is Spanish for "house for your bits." It's a cloud-storage service along the lines of the more famous Dropbox, but better in several respects.
For starters, Bitcasa will give you a free 10GB account just for signing up. (Dropbox limits you to a measly 2GB.) Download one of
Bitcasa's mobile apps
and you'll net another 500MB. Grab the desktop version and get 500MB more. And for every friend you refer, you'll score an extra 1GB of free space (up to 25GB). That's easy money, so to speak.
Another reason I'm sweet on Bitcasa is that it lets you sync whatever files and folders you want to its online servers, and not just those you drag into a special bucket (as with Dropbox). That's a huge plus, a way to make backups as simple as right-clicking a folder and choosing "Mirror to Bitcasa."
What about security? No Web service is totally safe, but I'd argue that because Bitcasa is a small-fry, it's a much less inviting target to hackers than, say, Dropbox.
Finally, I really like Bitcasa's Web interface, which is elegant and straightforward and vastly superior to Dropbox's. It's as novice-friendly as they come, meaning you should go from cloud newbie to cloud expert in no time.
For example, to do something with, say, a photo you've uploaded, just mouse over it. Instantly you'll see icons for sharing the photo via e-mail, Facebook, or Twitter. And if you want to do something else, just click the check-box to reveal options like move, copy, rename, delete, and download.
If you haven't yet tried a cloud-storage service or, more likely, you've tried one and found it too confusing or cumbersome, take Bitcasa for a spin. It has quickly become my favorite tool for parking and sharing files online.
Veteran technology writer Rick Broida is the author of numerous books, blogs, and features. He lends his money-saving expertise to CNET and Savings.com, and also writes for PC World and
Wired.
(Source:
Savings.com
)