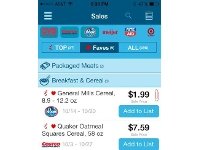 How to find the best deals at drugstores and grocery stores with Favado
Back in the dark ages (you know, before smartphones), there was really no way to find the best deal on, say, a gallon of milk--not without driving around to different stores.
Likewise, you might buy a box of your favorite cereal, a loaf of your favorite bread, and so on, only to see them go on sale just a few days later. If only you'd waited.
Favado is a sweet new app that shows you all the sales
at your favorite drugstores and grocery stores. At the same time, it notifies you when your favorite items go on sale. With those two crucial kernels of information, you can save big every time you go shopping--and make sure you go shopping when the time is right.
You start by choosing one or more stores in your neck of the woods. The app links to just about every retail chain in the country, from Albertson's to Costco to Dollar Tree to Walmart.
With that done, you'll see your stores in a scrolling toolbar across the top. You can tap one store to see all the current sales, or toggle on additional stores to do some quick comparison of who has the best sales in various categories (Beverages, Breakfast & Cereal, Packaged Meats, and so on).
Looking for milk? Or allergy medication? Or diapers? Use the search tool and Favado will list all the related sales at all your selected stores. For any given sale you see, you can tap Add to List to immediately clip it to your shopping list. But you can also tap the item itself for sale details, which may include additional savings in the form of printable, electronic, and/or store-insert coupons.
For example, a pack of Pampers Diapers popped up at Rite-Aid with a sale price of $27.99--already a good deal. But if you scroll down, you'll see various coupon options, culminating with a "best possible price" of $22.99 if you use specific coupons and/or incentives. So in one quick and easy swoop, you just saved an extra $5 on top of the $3 you were already going to save just by learning about the initial sale.
Needless to say, this can really start to add up the more you shop. And Favado can issue on-device notifications when there are new sales at any or all of your selected stores, so you don't even have to remember to use the app. Rather, it'll let you know when there's a sale worth reviewing.
Favado is available for Android and iOS devices. It's free, and therefore a must-have addition to the bargain-hunter's app arsenal.
Veteran technology writer Rick Broida is the author of numerous books, blogs, and features. He lends his money-saving expertise to CNET and Savings.com, and also writes for PC World and
Wired.
(Source:
Savings.com
)