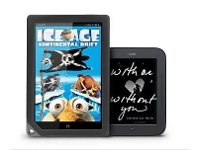 How to get a free Nook Simple Touch e-reader
If you've ever tried to use a tablet as an e-reader, especially a big tablet, you know that it's not exactly ideal. Larger, heavier models can be hard to hold for long periods, and I find them especially unwieldy for reading in bed.
Plus, tablets offer no end of distractions, everything from e-mail to Facebook to Angry Birds to Netflix. With so many cool apps competing for your attention, it can be hard to focus on your book.
At $269, the HD+ is already a killer deal. It has an ultra-high-resolution 8.9-inch screen, a fast processor, and 16GB of expandable storage. And it runs all the most popular Android apps, like Netflix and Evernote, though I will admit that Barnes & Noble's curated app store is annoyingly light on freebies.
One other big perk: You can
convert the HD+ to a full-blown Android tablet
, one with full access to the Google Play store and all the apps and media therein. That includes the Kindle app, meaning you can read any books you've already purchased from Amazon--or any you want to purchase.
As for the Nook Simple Touch, it would normally cost you $79. It features a 6-inch Pearl e-ink touchscreen, 2GB of expandable storage, and Wi-Fi for downloading books. Although it lacks the newer model's compelling backlight, it's widely regarded as one of the top e-readers on the market.
And it's free! If you were thinking of buying a big tablet anyway, this is one offer that's definitely worth considering. But it ends March 31, so don't wait too long to decide.
Why would B&N give away its e-readers? Some would argue that the company is planning to get out of the hardware business, but I suspect they're merely clearing older inventory to make way for newer models. Either way, it's a win for the customer.
Veteran technology writer Rick Broida is the author of numerous books, blogs, and features. He lends his money-saving expertise to CNET and Savings.com, and also writes for PC World and Wired.

(Source:
Savings.com
)