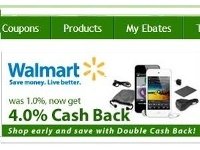 How to save even more on Cyber Monday
Anyone who's willing to face long lines, cold weather, and deal-crazed crowds stands to
save big on Black Friday
. Personally, I prefer shopping from the comfort of my home, usually while dressed in flannel pajamas and enjoying a nice cup of cocoa.
That's why I'm more excited about Cyber Monday, the online equivalent of Black Friday. It's like the entire Internet is on sale.
Indeed, Cyber Monday is the day when many (if not most) e-tailers offer some of the best deals of the year. And by leveraging one of my favorite money-saving tricks, you can make those deals even better.
I'm talking about cashback services.
Ebates
,
FatWallet
, and the new MonaBar are among the outfits that will pay you back a percentage of nearly everything you buy online.
Suppose, for example, you're ordering your kids a new Lego kit from Toys 'R' Us, which is already discounting it, say, 25 percent for Cyber Monday. Using one of the aforementioned services, you might get an additional 4.5 percent cash back on your final purchase price. In fact, as of this writing, Ebates is offering an impressive 8 percent back on Toys 'R' Us purchases. (Percentages vary from store to store, and often from week to week as well.)
To use Ebates or FatWallet, you simply head to either site, choose the store or product you're looking for, then click through to the actual store and shop like you normally would.
MonaBar makes it even easier thanks to a browser toolbar that appears whenever you visit one of its partner stores (which currently number around 18,000). That way you'll know at a glance how much extra you stand to save.
MonaBar also allows you to get your rebate (via check or PayPal) anytime you want, whereas most other cashback services make you wait 90 days. On the flipside, MonaBar's rebate rates aren't quite as high as some of the competing services.
Whatever cashback service you use, use one. They're a virtually effortless way to save extra money on Cyber Monday--and every other day of the week. I'm a huge fan.
Veteran technology writer Rick Broida is the author of numerous books, blogs, and features. He lends his money-saving expertise to CNET and Savings.com, and also writes for PC World and Wired.
(Source:
Savings.com
)