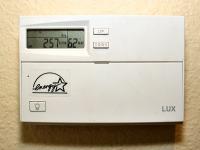 How to save on energy without living in the dark
As the days shorten and temperatures drop, our utility bills are going to begin to climb. A few small changes can reduce the amount of energy you use. Here are some tips to help you decrease your energy consumption and save money on your utility bills.
Put on a sweater and lower you thermostat.
Set your thermostat for between 65 - 68 degrees during the day and lower it to 62 degrees while you sleep or are at work. If you have a programmable thermostat, you can set it up now and not have to worry about lowering and raising the temperature throughout the day.
Check the weather stripping around your doors and windows
. On a windy day, run your hand around the seams of your windows and doors to see if you feel any drafts. If you do, pick up weatherstripping at your local hardware store. You can find self-adhesive weather stripping. You just remove the backing and put it in place.
Use your blinds to help insulate your home at night.
When the sun sets, close your blinds to help insulate your windows. Open your blinds when the sun hits the windows. The sunshine will provide natural lighting and help heat your home.
Use your ceiling fans.
In the summer, you set your fans to spin counter-clockwise to pull the hot air up to the ceiling. On the top of your ceiling fan there is a switch that you can use to reverse the spin on your ceiling fan which will blow the hot air down. Here are more tips to help you
save money on utilities in the winter.
Minimize dryer usage
. It may be too cold to hang laundry outside, but you can put up an indoor clothes line in your laundry room, bathroom, or basement. When you do use your dryer, be sure to clean the lint filter each time before running the dryer. Even a little lint reduces efficiency which means you have to run the dryer longer.
Reduce phantom energy loss
. Instead of leaving idling electronics plugged in to the wall, plug them into a surge bar. Before you go to bed or leave for work unplug the surge bar, so your electronics are not using standby power when they are not in use.
Replace incandescent light bulbs with Compact Fluorescent light bulbs
.
CFL bulbs have really come down in price over the last few years. Since they draw less energy and last for years, you can save over $30.00 over the life of the bulb. As your old incandescent bulbs go out, replace them with CFL bulbs. Use solar lights outside and put your outdoor and garage lights on timers that automatically turn off after a preset amount of minutes, so they don't accidentally get left on all night long. You can find more tips for
saving money on your electric bill here
.
Alea Milham shares her tips for saving money and time while reducing waste in her home at Premeditated Leftovers. She also shares the latest deals and coupons at Saving in Nevada. Her favorite hobby, gardening, is a frugal source of organic produce for her recipes.
(Source:
Savings.com
)