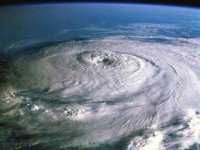 Hurricane Irene and Ways to Survive Hurricane Season 2011 Safely
As I write this blog post, Hurricane Irene is lashing the East Coast with heavy rain and winds of 105 mph. Irene has the potential to become a
multibillion-dollar catastrophe
. Six to nine foot waves have already been reported along the Carolina coast. This disaster is projected to affect 65 million people in the heavily populated region of DC, New York, Boston, Baltimore and Philadelphia.
New Yorkers, who have not seen a hurricane since Hurricane Gloria in 1985, are being asked to pack up and move elsewhere as the city could become flooded. The highest economic damage by a storm in the
Northeastern U.S. was in 1938 in Long Island at $45,301,000,000
.
Let's hope Hurricane Irene weakens and gets downgraded from a Category 2 storm.
What are some ways you can prepare for a hurricane and avoid disaster to you and your home?
Allegra recently posted about
disaster preparedness on a budget
and lists ways to save on kits, food, water and first aid. I'll show you some ways to save yourself from hurricanes.
Get out of town. Heed the evacuation warnings and leave town if you can. You really don't want to be in the path of the hurricane. Before you leave town, make sure you board up all your windows with plywood, not duct tape. Turn off all gas, electricity and water. Also, secure any outdoor furniture or just bring it inside. If you are in a low-lying area, get some sand bags and put them outside the house to prevent flooding. Make sure you bring your pets with you or find out about local shelters that can take them in.


If you can't or don't need to leave town, get your disaster kit ready. You should have a three day supply of food and essentials that include canned food, can opener, battery-operated radios or TV, flashlights with extra batteries, one gallon of water per person per day, cash, copies of all important documents for everyone, a recent photo of each family member and pet supplies. One great tip from Guy who has been through a few hurricanes: Fill the bathtub with water in case the storm knocks out your water supply. Use this to flush the toilet, etc.


Develop a family emergency communication plan. In case you and your loved ones get separated, it's good to designate an out-of-state contact that you can all call to check in with. It's easier to call long distance after a disaster. Make sure everyone knows the name, address and number of this person.


During the hurricane, listen to battery-operated radios or TVs for updates on the storm. Once you are given clearance to return home, make sure you check your house for gas leaks and other problems before going back in.
How do you prepare for hurricanes and other disasters?