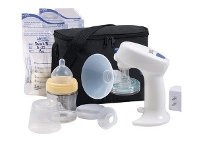 IRS Says Yes to the Breast with Tax Deductions for Breastfeeding Equipment
Finally, I have something in common with politicians (
well, some
). The fact that they are taking a strong stance on the importance of breastfeeding. Just recently, the Internal Revenue Service (IRS) announced that they would reverse a ruling that didn't qualify breast pumps and other lactation supplies as a medical care expense.
For someone like myself who has a
flexible spending account
(FSA), I would not be able to claim or get reimbursed for a breast pump, under the old tax ruling. After the recent announcement by the IRS, however, breastfeeding mothers can now claim it. This is a huge victory.
After lawmakers, Senators Jeff Merkley (D-OR) and Tom Harkin (D-IA), and Representatives Sander Levin (D-MI) and Carolyn B. Maloney (D-NY), wrote the IRS commissioner to reverse the ruling and allow
breastfeeding equipment to be tax deductible
, they came out with a big win (
especially after the IRS denying the American Academy of Pediatrics' request, at the end of last year
).
According to their official statement:
"Today's decision is a huge victory for nursing mothers everywhere. Modern medicine has documented numerous health benefits linked to breastfeeding, including a reduced risk of illness in infants and a reduced risk of cancer in mothers. And because breastfeeding is so effective in preventing disease, it also happens to save billions in health care costs. We thank the IRS for their careful consideration and quick response."

Breastfeeding has been long linked to many health benefits for both mother and baby. Research has indicated that breastfed babies will less likely be obese. With so much money being spent on health care costs, the government is finally stepping up and acknowledging the importance of breastfeeding and how it could potentially save the country billions of dollars.
In my past blog post, I wrote about the
benefits of breastfeeding
and how it could be your "
golden ticket to wealth, health, and happiness
." The fact that our government can acknowledge the health benefits and see how breastfeeding could take a pivotal role in saving our nation, the excess in health care costs, is a big step.
So if you're a nursing mother, make sure you claim your breast pump. They're now eligible for a medical tax deduction and reimbursable by your FSA.
What do you think about the recent ruling and
The Affordable Care Act
signed by President Obama which gives workplace support for nursing mothers?