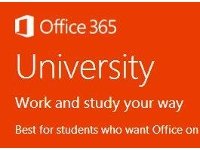 Students, get Office 365 free for six months
Awhile back I explained why
the new Microsoft Office 365 Home edition might be a good deal
.
Well, there's no better deal than free. And if you're a student, there's a little free in your future.
Just type in your valid e-mail address (one that ends in .edu), then click Redeem Offer. That'll set you up with Office 365 University, which affords access to the 2013 versions of Word, Excel, PowerPoint, Outlook, OneNote, Access, and Publisher. And you can install it on up to two PCs or Macs--nice if you use multiple machines.
It's important to note that Office 365 requires Windows 7 or later, so you're out of luck if you're running an older machine with Windows XP or Vista.
I'm not sure how long Microsoft plans to offer this three/six-month trial. Obviously the timing would be better if this was July or August, when everyone's shopping for new PCs and getting ready for a new school year. But I'd say for any student looking to test-drive Microsoft's new suite, this is too good to pass up.
Veteran technology writer Rick Broida is the author of numerous books, blogs, and features. He lends his money-saving expertise to CNET and Savings.com, and also writes for PC World and Wired.


(Source:
Savings.com
)