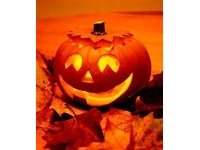 Infographic: Halloween Costumes and Other Spooky Spending Trends
With less than two weeks before small ghosts and goblins appear on our doorsteps to offer us respite from tricks in return for treats, spending on costumes, candy and other spooky accessories is trending upwards. Although Halloween spending took a significant dip last year due to the effects of the recession, it appears to be inching towards a level on par with 2008 with projected holiday revenues totaling over $66 billion dollars.
Trick or treat, indeed!
According to the infographic below, most of this money will be spent on Halloween costumes, with fun-sized Snickers and Milky Way bars, Reese's peanut butter cups, candy corn and other Halloween treats coming in second. Surprisingly, over a third of Halloween shopping will occur online with almost half of those shoppers being between ages 18-46.
And I'm sure that most of them searched for
Halloween deals
in order to get the biggest bang for their buck as well...
(Click on image for full-sized version.)


(Click on image for full-sized version.)
Want to embed this infographic on your site? Use the code below
: