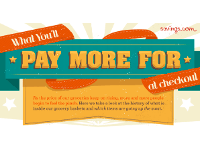 Infographic: Then Vs. Now What You'll Pay More For At Checkout
A show of hands, please: How many of you have left the grocery store lately, looking at the receipt and wondering how your total managed to be so high?
Prices continue to rise, and as a result, consumers are paying more and getting less at the checkout.
The infographic below outlines price increases from 1900 until 2012, so you can see where your dollars are going at checkout.



Add This Infographic to Your Site: