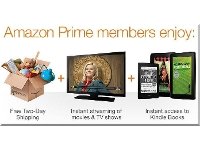 Is Amazon Prime a good deal at $7.99 per month?
You've heard of Amazon Prime, right? It's the service that upgrades you to two-day shipping on all your Amazon purchases, streams unlimited movies and TV shows, and gives you a monthly e-book rental, all for $79 per year.
That's a pretty solid deal, but no doubt some people balk at the idea of paying that much for a service they're not sure they'll like. What's more, competing video-streaming services like Hulu Plus and Netflix charge $7.99 per month, which seems more palatable.
The question is, how do the two options stack up, especially when compared with Hulu and Netflix? Let's crunch some numbers.
At $7.99 per month, Amazon Prime will cost you $95.88, or about $16 more than the annual plan. So if you can manage the latter, you'll save money over the long haul.
Okay, but how does a $7.99 Amazon Prime compare with a $7.99 Hulu Plus or Netflix? It's not quite an apples-to-apples comparison, because those two services do just one thing: stream movies and TV shows.
Prime does likewise, though I think Netflix offers a broader, better movie library. (For example, it now has last year's Best Picture winner, "The Artist," available for streaming. Amazon Prime doesn't have it; your only option is to purchase it for $12.99.) Plus, you can stream Netflix to a lot more devices, though Amazon Instant Video is starting to catch up. (It's available on iPad, for instance, but not yet on iPhone.)
Hulu Plus has a pretty dismal movie library, but offers a great selection of TV shows--most notably recent seasons and episodes of currently airing series. The big disappointment: You have to sit through commercial breaks. Prime and Netflix afford commercial-free viewing.
Of course, Amazon offers Prime subscribers more than just streaming video. You also get to check out one e-book per month from the "Lending Library." Assuming a purchase price of $9.99 per book, that alone more than covers your subscription cost. My only complaint is that the Lending Library selection leaves much to be desired. It has a smattering of bestsellers, but I find it rarely has any of the titles on my to-read list. Your mileage may vary.
What makes Amazon Prime such a killer deal, in my humble opinion, is the free shipping. No longer do you have to pad your shopping cart to at least $25, then wait a week or more for your items to arrive via slow boat. With Prime, you automatically get two-day shipping on everything you buy. As someone who does a fair amount of Amazon shopping, I seriously love this benefit.
So whether you pay $7.99 per month or $79 per year, I think Amazon Prime is a pretty sweet deal. Agree? Disagree? Hit the comments and let me know why.
Veteran technology writer Rick Broida is the author of numerous books, blogs, and features. He lends his money-saving expertise to CNET and Savings.com, and also writes for PC World and Wired.
(Source:
Savings.com
)