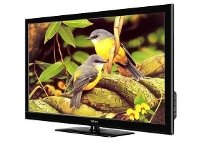 Is now the time to buy a 4K TV?
Sometimes I'm tempted to buy things I don't need, even when I know full well they're not practical.
For example, TigerDirect is currently offering the
Seiki SE39UY04 39-inch 4K Ultra HDTV for $499.99 shipped
when you apply coupon code
NFF106630
at checkout. That's the lowest price I've ever seen on a 4K TV, and therefore
I must have it
.
Well, okay, quick reality check. Let's take a look at some of the pros and cons here.
In case the terminology is unfamiliar, "4K" refers to ultra high-definition television, also known as Ultra HD. The number derives from the screen resolution of 3,840 by 2,160 pixels, which is four times greater than standard HDTV (which runs at 1,920 by 1,080). More pixels equals a sharper picture, so if you thought you current TV was crisp, you ain't seen nothin' yet.
About two years ago, when 4K TVs made their debut (to much media fanfare), you could expect to pay as much as $20,000 for one--never mind the fact that there was little to no 4K content available to watch.
Now, you can grab a 4K panel for just a few bucks more than the price of a regular old HDTV. Awesome, right?
Maybe not. For one thing, there's still very little 4K content out there, meaning all those extra pixels will be going to waste. It's not like you can tune in a bunch of 4K channels on Comcast (you can't) or rent 4K Blu-ray movies (ditto). In fact, Samsung recently went so far as to
offer 4K TV buyers a couple of free 4K IMAX movies
--which are delivered
on a hard drive
you have to plug into the TV.
Make no mistake: With this Seiki and TVs like it, you'll still get a very nice picture when viewing regular HD stuff--cable TV, Blu-ray movies, console games, etc.--but don't expect the sun and moon.
What's more, there's not much value in having such a high screen resolution when the screen itself measures only 39 inches. Indeed, many would argue that even full 1080p is overkill on a 39-inch TV, which is why many older models topped out at 720p (that is, 1,366 x 768). At that size, your eyes just don't see the higher pixel density.
So, to answer my own question: No, this is not the time to buy a 4K TV, at least not one that's only 39 inches. The exception is if you're looking for an ultra-high-resolution PC monitor (and have a video card that can drive it), in which case this is an absolute steal. Check the reader comments on TigerDirect's product page to see how a few users have leveraged this TV for that purpose.
Veteran technology writer Rick Broida is the author of numerous books, blogs, and features. He lends his money-saving expertise to CNET and Savings.com, and also writes for PC World and Wired.
(Source:
Savings.com
)