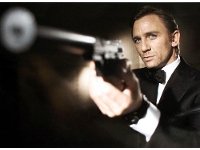 James Bond: 007 Has Run Out of Time
British secret service agent James Bond ran out of time--well, sort of...His wristwatch blew up. He may thank the Q Branch for the explosive properties inside the watch's mechanisms. That break-through-thick-walls bomb helped 007 slip out of a sticky situation. Bond's new assignment however requires him to blend with the general population.
Say goodbye to luxury watches styled by
Cartier
and say hello to trendy, affordable men's watches under $500.
During the holiday season, you may find these men's watches on sale. Which watch do you think would look casual yet classy on 007?
Charli "Chuck" Gulley is a screenwriter, filmmaker and freelance writer who lives in Southern California. Quite the tomboy, she enjoys Rugby, Fencing and touch football. She's an alumnus of the prestigious screenwriter's workshop, "Writers Bootcamp." Her passion is Hollywood, anything and everything to do with filmmaking. If you don't find her on set, you can find her at the arcade playing air hockey and eating pizza.