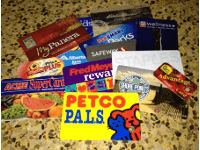 Key Ring reward cards app for all your store loyalty cards into one spot
If you're like me, you have a wallet overflowing with store loyalty cards. When you need one you have to search through at least a dozen of them to find the one your looking for. There's a solution, and it's FREE!
Key Ring
is an app that's user friendly for even the not so techy. Grab your loyalty cards and start scanning the barcodes and follow the prompts.
One of the features I liked on this app was how you can "share" your cards. I downloaded the app, entered all my cards and shared them with my husband by entering his email address. Then when he download the app, all the cards I entered were there for him. Many of the stores on the app also included the weekly sales ad and some stores offered special deals only available for those using the app.
There are two things you should know:
First: Once you're all set up and want to use the app in a store, the barcode has to be scanned by a hand held scanner at the store. All cashiers have them.
Second: This one is from personal experience. Enter your cards in alphabetical order. After you scan your card, you'll be asked to choose the store that matches that card. This is a huge alphabetical list.
As you enter your cards, you'll be taken to where you left off on the stores list from your previous entry. Doing it alphabetically will save you a lot of time scrolling through the stores.
Download the app for free at the
iTunes
store for iPhone, iPod touch, and iPad or for your
Android
phone.
Jackie lives in Seattle, her blog is Free Hot Samples. Where there are hundreds of freebies and deals up for grabs.


(Source:
Savings.com
)