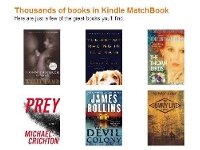 Kindle Matchbook offers discounted e-books to hard-copy owners
In an ideal world, buying a hard copy of a book would entitle you to a free download of its e-book counterpart. Amazon's AutoRip already extends that courtesy to folks who buy select music CDs--the purchase immediately adds the MP3 version of the album to your cloud library--but there's no such equivalent for book buyers.
There is now--sort of. Amazon's new
Kindle MatchBook
program offers discounted e-book prices for physical books you've purchased, both past and future.
In other words, if you bought Ray Bradbury's "Dandelion Wine" (from Amazon) back before the Kindle even existed, MatchBook will give you a price break on the Kindle edition.
What kind of break? MatchBook prices will run $2.99, $1.99, $0.99, or even free, depending on the book. So, yeah, it's like AutoRip for e-books, but with the likelihood of having to pay a buck or two.
I have mixed feelings about this. Recently I bought a copy of Chad Harbach's "The Art of Fielding," a book I've been eager to read. But thanks to my aging eyes, I'm finding the print too small for comfort. Plus, my bedside lamp keeps my spouse awake when I read at night. What I need is the Kindle edition so I can enlarge the print and enjoy a backlit screen.
But that means buying the book twice, which is ridiculous. However, if "The Art of Fielding" fell under the MatchBook umbrella, I could get the e-book edition for $2.99, perhaps even less. That's certainly more reasonable than paying full price.
Now for the bad news: When the service launches in October, it'll cover only about 10,000 titles. More will be added, I'm sure, but I'm concerned that MatchBook will end up like the disappointing Kindle Owners' Lending Library, which allows Amazon Prime customers to check out one free e-book per month--from a comparatively small selection of mostly non-mainstream titles.
Amazon is making much of the fact that MatchBook supports books dating back to 1995, the year the company started selling books. But with only 10,000 titles, it's pretty unlikely you'll actually be able to make a "match." Let's see the number jump to 100,000, or even 1,000,000--then I'll start getting excited.
But MatchBook is definitely a step in the right direction. I'm willing to pay an extra buck or two to get an e-copy of a hard-copy, even though I'd still like to see the former just outright bundled with the latter.
Your thoughts?
Veteran technology writer Rick Broida is the author of numerous books, blogs, and features. He lends his money-saving expertise to CNET and Savings.com, and also writes for PC World and Wired.


(Source: Savings.com)