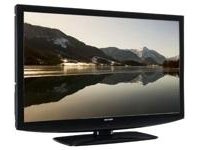 The Tech-pert: LCD TV Deal for $699
My new motto: Life is short. Buy a big TV. I say this having squinted through the first couple seasons of "Lost," countless NCAA basketball tournaments, and pretty much everything else on the air. When I finally splurged on a big HDTV, life improved tremendously. (
Yes, I recognize how sad it is that my quality of life depends so heavily on television. Sue me..
.)
Thankfully, a big screen doesn't have to mean big bucks, as evidenced by
Dell's deal of the day
: a 47-inch Sharp LC47SB57UT LCD TV for $699 shipped. It's rare enough to find a 42-inch set at the price, but a 47-incher? That's too good to pass up. I always consult reviews before making a purchase like this--starting with user reviews. After all, who better to judge a TV's worthiness than my fellow couch potaters? And the reviews on Dell's site are telling: 118 to date, with an average rating of 4.5 stars out of 5. Clearly, this Sharp's a winner. I won't bore you with a bunch of specs that don't mean much to most viewers, other than to say the LC47SB57UT offers 1080p, a 120Hz refresh rate (
most TVs at this price point top out at 60Hz
) and four HDMI inputs--enough for your cable box, Blu-ray player, Xbox 360, and, oh, the camcorder you occasionally want to plug in. In other words, plenty. (
It has two component-video inputs, too, in case there's a Wii in the mix
.) (
By the way, never, ever spend more than $10 on an HDMI cable. Head to a site like Meritline or Monoprice and you can pick one up for as little as $4.
) Given that shipping charges for an LCD TV often run as high as $100, getting out the door for just $699 (
plus sales tax in some state
s) is truly incredible. If you've been shopping for a nice, big screen, don't miss this deal. It expires tomorrow (
unless it sells out first
).
Self-proclaimed cheapskate Rick Broida has been a technology writer for over 20 years. He has authored over a dozen books, including, most recently, "How to Do Everything: Palm Pre." Currently he writes the Cheapskate blog for CNET, the Hassle-Free PC blog for PC World, and technology stories for Popular Science, Wired, and other magazines.