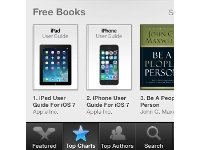 Learn iOS 7 with free e-books from Apple
In case you've been off the planet for the past few days, Apple just took the wraps off iOS 7, which be all accounts is the biggest, boldest,
deadliest iOS upgrade in the company's history
.
Okay, maybe that's an exaggeration (it's only somewhat deadly), but there's no question this is a very different iOS from what you're used to. Even if you're a tech-savvy user, you're likely to run into confusing areas, if not downright frustrating ones. And novices, well, look out.
Before you go out and spend money on a "Dummies" or similar guide to iOS 7 (not that they're not invaluable resources), check out what you can get for free.
Specifically, Apple offers iPhone, iPad, and iPod Touch user guides for iOS 7, all of them at no charge, all of them available
via the iBooks app
.
Call these the "missing manuals" for iOS 7, as they cover everything from basic navigation to Siri to using your device in business.
They're not available in print, but at least you can read them on the go. That said, on an iPhone or iPod Touch screen, they're a little small, especially the embedded images and screenshots. If you have an iPad, I strongly recommend using that to read these e-books, even if it's the iPhone or iPod you're reading about.
Even better, get
the PDF versions of these manuals
, which you can view nice and big on your PC or Mac. You can also print select pages if you want, or even the whole thing if you've got ink and paper to spare.
I would also recommend checking out CNET's
complete guide to iOS 7
, which covers things like setup, what's new, and settings you might want to change.
Have you tried iOS 7 yet? If so, what do you think of it? I'm finding a lot to like, though a few changes feel like they're unnecessary and not at all beneficial. But that's a gripe for another day. I'm eager to hear your thoughts on the subject.
Veteran technology writer Rick Broida is the author of numerous books, blogs, and features. He lends his money-saving expertise to CNET and Savings.com, and also writes for PC World and
Wired.