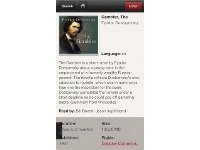 Listen to thousands of free audiobooks on your iPhone
If you spend a lot of time in the car, nothing beats audiobooks.
Of course, unless you check them out from the library, they don't come cheap. Even if you subscribe to a service like Audible, you're looking at around $15 minimum per book.
I suppose it goes without saying that you won't find Stephen King or Toni Morrison in this collection. Rather, Audiobooks Free connects you with the LibriVox library, where you'll find books like "The Adventures of Sherlock Holmes," "The Count of Monte Cristo," "Great Expectations," and "Gulliver's Travels."
As I noted above, these are all public-domain works, so there's sure to be some material you've never heard of or have no interest in hearing.
Fortunately, you can search the catalog or browse by various filters, including Popular, Categories, Recent Additions, and Inkstone Recommends. This last reflects the developer's refreshingly honest declaration that "not all the audiobooks in this collection are great. They are narrated by volunteers, so the quality varies. Some are incredible, as good as any professional recording, but others are frankly amateurish. So we have made it easy to find the great and special books in the catalog through the curated 'Inkstone Recommends' section."
Those recommendations give Audiobooks Free an edge over apps like
Audiobooks - 2,947 for free
, which pull from the same LibriVox library but don't recommend any good stuff.
Also, Audiobooks Free incorporates a solid audio player, with features like 30-second skip, bookmarks, a sleep timer, and slider-adjustable playback speed. The only real hitch is that you have to sit through a short commercial before downloading a book.
If you want even more selection, the $1.99 Audiobooks HQ brings the book count to over 7,200, adding selections from sources like Podiobooks Live and Globe Radio Repertory.
Either way, this is a great option for fans of classic literature. The next time you're stuck in crosstown traffic, let Huck Finn help you pass the time.
Veteran technology writer Rick Broida is the author of numerous books, blogs, and features. He lends his money-saving expertise to CNET and Savings.com, and also writes for PC World and Wired.
(Source:
Savings.com
)