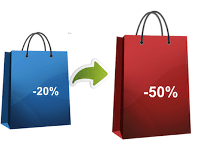 Make sure you don't miss that mark down
Well, you hunted across the web, found all the coupons you could and finally bought that item at the lowest possible price at that point of time from the website you were comfortable buying from. Now what? Do you regularly go back and check that the price has not dropped? Did you know that most retailers will do a price adjustment for you within 30 days of your purchase. And if they don't agree on that, depending on the price drop and shipping/return policies you can always return and buy that item back.
Big problem with this is that if you are like me and shop a lot online, can you really keep track of all the items you bought and their latest prices? I shop for 30-40 items online every month and sometimes I do try to do this manually but obviously it is a very time consuming activity. Also, you have to be able to catch the price on the right day - I have noticed a pattern on some websites that price drops on some particular day of the week and then it goes back up to original price. Each website has its own mind. For
Bloomingdales
it is typically Friday and Saturdays; for
Kohls
it is Saturdays.
This is what led me to a lot of google searches to see if there is any easy way to do this. I found some price alert websites like zingsale.com, but they require to you manually post all the items you want to track. Too time consuming for amount of shopping I do. Great for tracking it before I buy something especially a big purchase.
But recently I discovered a great website yairoo.com. They do exactly what I was looking for: I simply forward them my online purchase confirmation and they alert me back on any price drop based on my purchase price. It takes me two seconds to forward that email and so far, I am tracking that I have got a price adjustment on about 30% of items I forwarded the receipt to yairoo.com. Not bad for few seconds of investment.
They recently offered me join the beta test for their iPhone application which is absolutely fabulous. It allows me to track all purchases on my phone organized by each store and greatest feature is that it will clearly show me what items need a price adjustment and will draft an email to the retailer requesting it. Another few seconds and I can get my money back without even the effort of calling. (
I use the emails for small adjustments and actually call for big adjustments as I want to make sure I get that adjustment.
)
If you are not using this service, I think you are missing out on some real easy money back. I have saved few hundred dollars in just two months using this which I think would have been impossible by personally monitoring the prices on retailers website.
And whether you use this service or not, I strongly suggest you check that price every few days at least till the retailer's return policy limits to make sure you indeed got the lowest price possible.
Best option would be that retailers automatically refund you the price difference if they drop their prices but until then, I will use yairoo.com to make sure I am not paying more than anyone else!