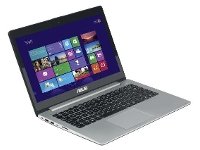 Microsoft's awesome back-to-school laptop deal
Last week I offered suggestions on
how to pick the perfect back-to-school laptop
. Today let's look at a specific laptop that's perfect for anyone heading back to school.
To put that in some perspective, the same model sells at Amazon for $649.99--Office 365 not included.
The VivoBook has the power to handle most mainstream college-computing tasks, provided no heavy-duty graphics are involved. (The integrated Intel HD 4000 video processor lacks the horsepower for things like 3D modeling, video editing, and CAD work.)
Its key specs include an Intel Core i5 processor, 4GB of RAM, and a 500GB hybrid hard drive (one bolstered by an SSD cache for fast booting).
Perhaps best of all, it sports a 14-inch touchscreen. I've noted before that a touchscreen really isn't essential on a laptop, but it's a nice feature--especially for today's students, who are very accustomed to tapping, swiping, and pinching on smartphones and tablets. And I think that size is just about ideal: not too big, not too small.
Indeed, the VivoBook weighs exactly four pounds, so it won't be too much of a burden to tote around campus.
Now for the fine print: To get this deal, you'll need to provide verification of student status--meaning only those who can prove they're enrolled in college need apply. (The same is true with education discounts from Apple and other companies.)
By the way, that four-year Office 365 University bonus would cost you $79.99 if
purchased separately
(which you can do, by the way, even if you're not buying a laptop). I think it's a genuinely fantastic deal for Microsoft's suite, especially considering that us non-students have to pay $99.99 for just one year.
Veteran technology writer Rick Broida is the author of numerous books, blogs, and features. He lends his money-saving expertise to CNET and Savings.com, and also writes for PC World and Wired.
(Source:
Savings.com
)