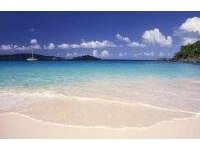 Money Savings Tips for Caribbean Travel
Caribbean vacations can be even less expensive than some East and West Coast beach vacations depending on the destination you choose and the time you travel. There are numerous ways to cut costs for the frugal traveler who really wants to experience the beauty of the Caribbean without paying too dearly for it.
Here are a few:
Choose a less expensive island. The least expensive Caribbean destination is the Dominican Republic hands down, yet the beaches are just as sparkling and the water and blue as other islands in the region. A close second is Jamaica, and after this, San Juan, Puerto Rico. Finally, great bargains can be found for travelers to Aruba and the Mexican Caribbean beaches of Cancun and Los Cabos. While the US Virgin Islands tend to be pricey, St. Croix is more affordable than St. John or St. Thomas. If saving is your goal, then avoid Dominica and Saint Barthelemy at all costs. (If you find the many destinations daunting like I do, use this map of the Caribbean islands to sort them out.)
Research flights. Airfare to the Caribbean from many West Coast cities is surprisingly affordable. I did a quick 10-minute test of several sources to compare the lowest prices for one flight: New York City to San Juan, Puerto Rico leaving August 11, returning August 18. (Note: These prices were obtained on July 10, so prices may have changed between then and now!)

Here are the results for the lowest round trip price shown on each site: This does not mean that Priceline and Travelocity will always be the least expensive bet; it depends on what carriers fly to which cities. Kayak.com is an aggregator that gets prices from other sites. The $287 price listed by Kayak was fed from and would be purchased on Expedia, but you'd still want to check Kayak since it's lowest price often beats that on other sites. Also note that most Caribbean destinations will cost more than San Juan. I purposely chose San Juan for this test because I know many carriers fly there--the competition helps keep prices down. Very few carriers fly to destinations like Dominica and Saint Barthelemy, so airfare to these locations can be outlandishly priced due to lack of competition.
Compare prices for different days of the week. Interestingly, in the above test, leaving and returning on a Wednesday produced distinctly lower prices than any other day of the week. Is this always true of Caribbean trips? Beginning and ending a trip--and this applies to flights, hotels, and rental cars--on certain days of the week, usually beginning or mid-week, nearly always brings the price down. But the day changes from city to city and season to season. Just checking a few different days within a close window can easily save you $300 between hotel, flight, and rental car.
Check exchange rates and currency. In Caribbean locations tied to the euro, the US dollar will not go as far. As of now, the conversion rate of dollars to euros is much better than it was not too long ago--but it's still worth double checking. The destinations pegged to the US dollar will are the ones where dollars will buy more. Research Caribbean currencies to see which destinations are tied to the euro or dollar.
Consider the time of year. The peak season for Caribbean travel is during the winter, and the winter holidays are especially busy, as well as expensive. Spring is also quite busy. Summer and fall are low season and offer the greatest bargains. However, this coincides with hurricane season which runs from the beginning of June to the end of November. Note that the ABC islands of Aruba, Bonaire, and Curacao are outside of the main hurricane belt right off the coast of Venezuela and are frequently advertised with promotional vacation rates.
Used a specialized travel site. Going with a specialized site can allow you to book an entire package that includes flight and hotel at a big discount. For example, CheapCaribbean coupons take $100 to $500 off already-discounted travel packages to many Caribbean destinations.
Which Caribbean destination do you most want to visit? What other island or beach destinations do you love or dream of seeing?