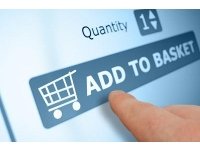 More Cyber Monday Deals
For those who don't like fighting the crowds on Black Friday, retailers have created Cyber Monday. You still get great deals, but you can grab everything online from the comfort of your home.
I prefer Cyber Monday, it's the way I prefer to do my Christmas shopping. I can get everything I need without running from store to store.
Most retailers offer free shipping on Cyber Monday, so it's not going to cost you any extra money! Your going to find most of the same deals you would on Black Friday, the only difference is you don't have to waste the gas in your car!
Today, you can get 40% off every item you order online PLUS free shipping at Express. 40% off everything is a great deal.
Best Buy has free standard shipping on all online orders through January 2, 2013. Excludes select Marketplace items and items displaying "In Store Only" message. You get a free $20 Best Buy gift card when you purchase a computer or select printers.
Choose from free shipping to your home or free in-store pickup at Walmart. Both take about the same amount of time, it's more convenient to have everything shipped to your home.
Target is offering free shipping on most of their items online. Be sure to check your total at checkout.
Kmart will have BOGO shoes and diamond jewelry up to 75% off. No news on shipping fees.
Don't count out Amazon on Cyber Monday, they sell just about everything. Check their prices for the things you want, you may get a better deal.
The great thing about shopping online at home is you can open a couple tabs on your computer and compare prices. It's not a snatch and grab like Black Friday. Here's something you may want to do before shopping online.
Jackie lives in Seattle, her blog is Free Hot Samples. Where there are hundreds of freebies and deals up for grabs.
(Source:
Savings.com
)