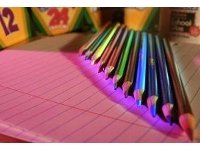 More Ways to Use Back-To-School Items, How To Watch Your Sales Cycles to Save Money and More (DealPro Round-Up)!
We have an amazing
network of DealPros
! These are people that work hard every day to help others save money and live a better life on a budget. Check out this round-up of the top content from our DealPro Network.
Back-to-School Supplies - Not Just For September
! The back-to-school deals are in full swing, but some of you may be thinking....I don't really need those things. Check out this post on The Coupon Challenge for some unique ideas on using back-to-school items.
Know your favorite products' highest and lowest price cycles
. Jennie Sanford from Bargain Blessings teaches monthly
Savings Nation Grocery Classes
, and this is something she helps all attendees walk away with - save money by watching the price cycles. Learn how Jennie does this on her feature in the Denver Post this week.
And Then What Broke?
- An excellent post from A Frugal Chick on dealing with life's expenses. Wouldn't you know it?....as soon as you decide to pay something off, something expensive decides to break. Check out her advice on how to plan ahead and what to do when this happens.
Beware of Healthcare Act Fraud
. Right after the Supreme Court upheld the Affordable Care Act, scammers took to the phones. This consumer alert from Valerie will show you how to watch out for these scammers, and what you can do.
Preparing for a Power Outage
. With a lot of the country dealing with extended power outages recently, this is a great time for everyone to have a refresher on how to prepare for a power outage on Northern Cheapskate.
Fun and Free Activities to do with your children this Summer
! Now that we are approaching the end of Summer, you may be struggling with some ideas of what to do with the kids, but not spend an arm and a leg. Check out this great post of tips on I Am That Lady.
Can You Really Make Money with Direct Sales Companies?
A tough topic to tackle, but one that The Thrifty Couple did well. Check out their thoughts on trying to make money with direct sales companies.
Looking for other ways to save? Come join a DealPro at a monthly
Savings Nation Grocery Workshop
.
What's something you did this week to save money? Tell us about it!