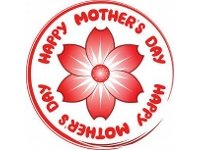 Mother's Day Freebies & On the Cheap
Mother's Day is Sunday and you don't have to spend tons of money on Mom to let her know that you care. She knows you do, and I guarantee she's likes spending time with you more than any gift you could get her.
I know you don't want to show up empty handed, so you can grab a free movie and even some free food for her this Mother's Day. Mom can get some free boneless buffalo wings, frozen yogurt, a free appetizer and even a free breakfast. If she likes handmade gifts, there is a free craft eBook with thirty different crafts you can make. Kids will love the free printable coupon books that they can give to mom, they can even break out the crayons and color one of the coupon booklets. Mom can redeem them to get the kids to clean their rooms, get a hug and more.
If mom likes to cook and coupon, you can get her a free lifetime membership to a program that allows her to create her menu then matches what she needs to buy with items that are on sale at the store she shops at. All with a click of the mouse. She won't need to check the newspaper for sales anymore! Don't forget to download the free Mother's Day Brunch eBook to get her started with some recipes. There are even a couple free craft events if your the mom and have little ones. The event and supplies are both free.
There are some great deals too. If she has to have that cup of Joe in the mornings, you can order her a coffee maker with coffee or tea for $9.99. If that wasn't a great enough gift, the coffee or tea can be placed on auto delivery. This gift keeps coming all year long!
And who doesn't love Oprah? You can get a year subscription (12 issues) to "O" magazine for ten bucks! Restaurants are offering good deals too. One has a Mother's Day Brunch that is only $14.95, Another is giving out $25 gift cards to all mom's that come in for Mother's Day. The gift card is for mom to use on her next visit to the restaurant. If you decide to go to one of the restaurant deals below, all restaurants recommend a reservation on Mother's Day. It's one of the busiest days of the year!
To all the moms - Have a Happy Mother's Day!
Free Boneless Wings