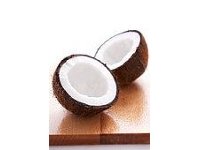 Mrs. Money: 5 Ways to Save with Coconut Oil
Coconut oil is one product you should always have in your pantry. It is very affordable, and its uses will surprise you. I buy coconut oil in large containers from
Amazon
and still marvel at how it seems to last forever.
Coconut oil is also full of healthy fats
and is also anti-fungal, anti-viral, anti-parasitic, and anti-bacterial.
Here are some of the things I use it for:
Cooking. Coconut oil can be used to stir fry, cook eggs--basically anything that you are heating up. It has a really high smoke point, so you don't have to worry about burning it like you do olive oil. Of course, some of the healthy fats are destroyed at high temperatures, but it's better to use an oil like coconut versus a genetically modified one like soybean oil.


Baking. Coconut oil can be used as a substitute for butter, shortening, lard, oils, etc. Basically any fat you need, coconut can stand in for. Coconut oil is solid when it is kept lower than 76 degrees, and then melts over that temperature.


Hair conditioner. Coconut oil is amazing as a hair conditioner. I rub a small amount on my hands, making sure to let it absorb well, and then run my hands through the tips of my hair. It smooths and conditions my hair, making the flyaways non existent.


Moisturizer. Instead of buying lotions, I just use coconut oil. It absorbs quickly into the skin, and makes it feel nice and supple. It doesn't leave an oily residue afterward either!


Medicine. Coconut oil naturally fights fungus, bacteria, parasites, and bacteria. If you're feeling like you're getting sick, a couple tablespoons of coconut oil may help you get better. I mix mine in smoothies and you don't even taste it!
Coconut oil will give you an amazing bang for your buck. Try it out; you'll be glad you did!
Mrs. Money writes at the Ultimate Money Blog, where she shares tips on frugal living, how to live green, and living a simpler life.