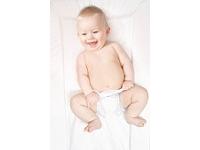 Mrs. Money: Raising Eco-Friendly Children
The decision to have children really isn't eco-friendly or frugal. However, I think if you decide to have children, there are many ways you can reduce your carbon footprint and save money while raising them. Last week I shared how cloth diapering can save you money, and this week I'm going to share some other tips.
Breastfeeding. Not only is breastfeeding free because you don't have to buy formula, it's also better for the baby, the environment, and your body. When you purchase formula, it has to be manufactured and shipped, and that produces waste. Breastfeeding moms also lose weight faster.


Second hand clothes. When babies are small, they generally wear clothes for a very short amount of time. The clothes can be passed between many children, saving many families time and money. Plus, babies don't really care what they are wearing, so it's not too big of a deal.


Co-sleeping. If you choose to co sleep, you can save money by not purchasing a crib, sheets, and all the other bedding required. If you choose not to co-sleep, look for a good quality mattress and buy the sheets second hand. Make sure you wash them well in hot water with laundry detergent!


Eco-friendly toys. By purchasing less, you can save money and not create waste. You can also make your own toys for babies by sewing scraps or sanding down scrap wood. Be creative!


Hang dry your baby clothes. You can very easily dry baby clothes in no time because they are so small!
Having a child can be as expensive as you make it. Hopefully you'll be able to cut costs in some areas that are less important to you.
Mrs. Money writes at the Ultimate Money Blog, where she shares tips on frugal living, how to live green, and living a simpler life.