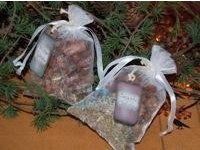 Mrs. Money: Recycling Your Christmas Tree
Image Courtesy of Hudson Valley Emporium

I love the scent of a real Christmas tree. Unfortunately, we don't get one each year because my husband and I both suffer from allergies and they can be a trigger. Not to mention it's not as frugal or green as purchasing an artificial tree and reusing it.
My parents purchase a real one though, and every year after Christmas I go over to their house and steal some needles from it. This year I decided to try and make a little sachet out of the needles so I could enjoy their scent a little longer.
Here's how I did it:
I took some scrap material I had on hand and sewed it into a baggie pattern. I stuck the needles inside, and sewed it up! It only took me a few minutes and the scent is great. I made one for myself and also for my parents.
Another great use for Christmas trees is to mulch them and use them as fertilizer. The needles and branches will decompose and break down, leaving excellent compost. To use your Christmas tree as fertilizer, you can take a lawn mower to it and chop it up. It will make the pieces small enough to start breaking down.
There are also many programs out there that recycle Christmas trees via curbside pickup. If you had a real Christmas tree this year, do the Earth a favor and make sure you recycle the tree. Chances are they will do the same thing as described above and will use the tree as fertilizer.
Do you buy a real or fake tree? What do you do with it after the holiday season?
Mrs. Money writes at the Ultimate Money Blog, where she shares everything from tips on frugal living, baking soda uses, how to live green, and living a simpler life.