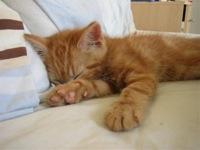 Mrs. Money: Save Money and Go Green by Sleeping Naked
It seems like the past two weeks the entire United States has experienced a heat wave. Running the air conditioner at full blast is neither frugal or green. At our house, we adapt to the heat and do many different things to save money and reduce our carbon footprint. One of the most interesting things we do to save money and go green is to sleep naked! Not only can it be more fun and exciting than sleeping with clothes on, but it also saves us money.
How can sleeping naked save you money?
When you sleep without any type of pajamas, chances are you can turn your air conditioning up a few degrees. Without restrictive clothing, you'll naturally be cooler than you would be if you were wearing cotton pajamas. Try turning the thermostat up a few degrees at first until you find your sweet spot. Of course, it's important to have a comfortable temperature to sleep, so make sure that you find what temperature works for you.
Less clothing worn equals less clothes to wash! You'll save money on your water bill, laundry detergent, and energy. It will also save you time because you'll have to do less laundry. It's a win-win situation.
If you're really brave, turn your air conditioning completely off at night and use a fan. The fan will use electricity, but instead of cooling your whole house, you'll be cooling just the room you are sleeping in.
If the thought of sleeping naked doesn't appeal to you, try wearing lighter summer pajamas and wear them more than once. You're only sleeping in them, after all. How dirty can they really get?
Sleeping naked can be an interesting way to save you money while going green. It may not be for everyone, but we can all make some changes that we're comfortable with. Find out what works for you and rock it out! Do you sleep naked in the summer? Does the thought of doing so freak you out?


Mrs. Money writes at the Ultimate Money Blog, where she shares tips on frugal living, how to live green and living a simpler life.