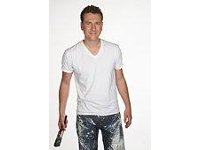 Mrs. Money: Save Money and the Planet by Recycling your Old T Shirts
When I decide to de-clutter, t-shirts are always one of the items that I donate the most. My husband's white undershirts, no matter how I wash them, seem to get dingy in six months. Instead of donating them all to our local Goodwill, I decided that I would try to re-purpose them and make them into items I could use around my house.
Old t-shirts make the best cleaning rags. Simply cut the seams, and cut the t-shirt into the size square or rectangle you'd like your rags to be. They are awesome for cleaning up spills and polishing chrome. One bonus if you have a really nasty spill; you can just toss the rag. Of course, that would defeat the purpose if you did that every time!


Make a rag rug out of them. This rug from Amazon retails for $64.99! It looks really cool, and if you got some latch hook backing, it would be cheap and easy to make.


Make cloth diapers. There are many free patterns available, and if you've got a t-shirt that you just can't stand to see go, it would be cute to use it on your baby!


Learn how to make cloth grocery bags to use your old t-shirts. I use these bags for everything from lunch to groceries to gym paraphernalia. It's awesome to see my t-shirts being recycled!
If these all else fails, donate your old t-shirts to your local thrift store. Many thrift stores sell old clothing in bulk by the pound, so even if you've got some you think won't sell, go ahead and donate them.
Mrs. Money writes at the Ultimate Money Blog, where she shares tips on frugal living, how to live green, and living a simpler life.