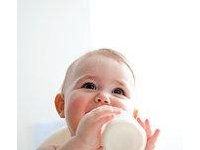 Mrs. Money: Save Money on Infant Formula
Babies can be very expensive, and one of the biggest expenses can be baby formula. Of course, if you or your partner is able to breastfeed, that will save you a lot of money. However, if it doesn't work out, there are ways to save money on baby formula.
Here are some tips to slash the costs.
Buy generic formula. This is an obvious solution. Name brand formulas are just going to be more expensive. Compare ingredients between the name brands and the generic. Chances are, they are very similar and you can end up saving a ton of money just by purchasing the off brand.


Buy formula in bulk. You can shop from Amazon's subscribe and save program where you'll save money when you have the formula automatically sent to you. That will save you money, time, and hassle from having to go to the store. Also, consider purchasing formula in bulk from Costco or Sam's Club.


Ask for samples. Pediatricians normally have many formula samples available. You can also try asking your OBGYN if they have any before you have the baby. Stock up before hand so you don't have to scramble when the baby is here. Before you leave the hospital, ask if they offer formula samples.


Check for coupons. Generally when baby companies find out you're expecting, they'll start sending you tons of mailings with their products. You'll start receiving formula checks good for so many dollars off the purchase of formula. You can also check eBay for formula coupon checks; they are definitely out there!
Don't let formula break the bank for you. There are many options to help you save money!
Mrs. Money writes at the Ultimate Money Blog, where she shares tips on frugal living, how to live green, and living a simpler life.