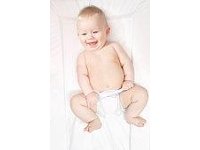 Mrs. Money: Save Money with Cloth Diapers
If you've got children or are thinking about having children, unarguably one of the biggest expenses that comes along with them is diapers. There's really no way around it. Cloth diapering has evolved over the past ten years or so and is now much easier than it used to be with the cotton diapers, safety pins and plastic pants covers. There are many new cloth diapering options that can help you save money and reduce your household waste.
Here are some of the cloth diapering systems available.
All in ones. These are probably the simplest option when it comes to cloth diapers. Just like the name says, it's an all in one diaper where the soaker is built in to the diaper and is protected by a waterproof cover. Just place it on the baby and when it's soiled, set it aside to wash. There is nothing to remove!


Pocket diapers. Pocket diapers are different from all in ones because they have a little area in the back where you can stuff the "soakers." If you have a heavy wetter, you may want to check out the pocket diapers because you can add more soakers in to absorb the extra moisture.


Cotton pre-folds plus cover. This is the cheapest option and actually uses those old fashioned cloth diapers. What's different though, is that you use a Snappi instead of the pins to hold the diaper together. You then put on a waterproof cover to hold the moisture in. What's nice about this system is that you can reuse the covers generally for a day or so, making your initial purchase less expensive.
If you've got a child or are expecting one, definitely check out cloth diapers. You can save yourself a lot of money and help the environment at the same time!
Mrs. Money writes at the Ultimate Money Blog, where she shares tips on frugal living, how to live green, and living a simpler life.