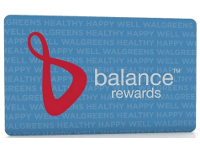 NEW!!! Walgreens Balance Rewards Card
Starting Sunday, September 16th
Walgreens
will be offering a new savings loyalty program,
Balance Rewards
. Signing up is free and you will want to! When you sign up to be a member you'll get access to sales, promotional pricing and earn Balance Rewards points on certain purchases. The points you earn can be used toward your future purchases at Walgreens.
How to get it?
Sign up for Balance Rewards at
Walgreens.com
. As an added bonus if you sign up online before the 15th of September you will be automatically entered to win one million Balance Rewards points. There will be 10 winners!
How does it work?
You'll get sales prices just for Balance Reward members. These are easy to spot in the
Walgreens sale ad
, they will have "With Card" near the price. If an item qualifies for points, its listed by the item along with how many points you can get. It's looking like it would be easy to accumulate points by what's being offered in
this weeks

ad
!
Here are some of the details:
Present your card at checkout, or give your phone number you register with.
Points can be accumulated with purchases in-stores and online with home delivery. If ordering online and picking at a Walgreens store, points will be given once the item is picked up.
Points are awarded to your card 3-5 days after you've made a qualifying purchase.
Benefits for AARP members.
Earn points for activities that help you stay well, like Walk with Walgreens, immunizations and where states allow for prescriptions.
Point Promotions will not apply to rain check items purchased after the promotion has ended.
If you have points on your card, you can use them at checkout or choose to keep them if you want to accumulate more.
When your ready to redeem your points, they will be converted into Redemption Dollars.
Points are to be used toward the total amount of a purchase and can not be redeemed for cash.
Read more terms and conditions.
Point Redemption:

(1) 5,000 points = $5
(2) 10,000 points = $10
(3) 18,000 points = $20
(4) 30,000 points = $35
(5) 40,000 points = $50

There is one very important line in the Balance Reward terms and conditions you have to remember:
Should any Balance Rewards Member not earn or redeem Points for 6 consecutive calendar months, the membership will be deemed to be inactive and all accumulated Points will be forfeited.

So, don't forget about your points or you can loose them!
If your a die hard Register Rewards fan, don't fear, I've heard Walgreens isn't eliminating that program.
A special thanks to Erica of
IHeartWags
for allowing me borrow her scan of Sunday's Walgreens sale ad for this post!
Jackie lives in Seattle, her blog is Free Hot Samples. Where there are hundreds of freebies and deals up for grabs.