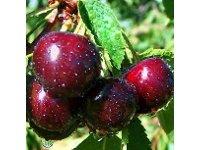 National Cherry Month: 4 Things To Do With Cherries
When you think of February, you probably think of Valentine's Day or possibly Leap Year, but did you know that it is also National Cherry Month? Dedicating an entire month to a single fruit may seem strange, but cherries are no ordinary fruit. They're full of antioxidants, vitamin C, potassium, and fiber, but also have a number of uses beyond food. If you love cherries like I do, it's the perfect excuse to celebrate one of our country's favorite – and most versatile – fruits, and we've got a bunch of ways to help you do just that!
Cook with cherries.
Sure, they're great for desserts – you can make a nice cherry pie, cobbler, sorbet, and cookies, amongst others – but cherries are also a delicious way to sweeten up a main course like chicken. Check out some recipes online or experiment with your own creations.
Drink with cherries. Obviously you can turn cherries into cherry juice, but why not make your own cherry soda? Or if you want something a little stronger, consider mixing a Sour Cherry Cordial, Black Cherry Splash, Cherry Pie in the Sky or more.
Paint with cherries. Young ones can make their own cherry trees by painting their hand green and their arm brown, and pressing it against the paper to create a tree, then use red paint on their fingers to make cherries in the branches. Alternatively, you can use the actual cherries as "red paint" after pitting them!
Play with cherries. Red balloons or balls can easily become "cherries" in just about any game that involves them, giving you a wide variety of options. There's also the board game Hi-Ho! Cherry-O, and you can even use actual cherries and have a cherry pit-spitting contest – provided you're willing to clean up the mess!
As you can see, there are lots of fun ways to celebrate this amazing fruit, and you'll probably find more if you check out events around your area. Some places even have festivals and parades!