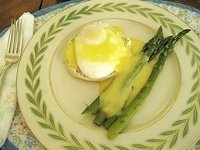 New, Easy, and Cheap Egg Breakfasts
With Easter just a few weeks behind us, it's hard not to have eggs on the brain! Eggs are a great, inexpensive source of protein and mostly "good" fat. They are also one of the few sources of naturally occurring Vitamin D and help us look good by promoting healthy hair and nails.
And even better, they're easy to prepare. So why not try a new egg recipe or two? Technically, these are breakfast recipes – but they make for a great lunch, dinner, or snack, too!
Feta Eggs
Tired of basic scrambled eggs? Add a little zest to your morning meal with feta and tomatoes.
1 tbsp butter
¼ cup onion, chopped
4 eggs
¼ cup tomatoes, chopped
2 tbsp feta cheese
Beat eggs and set aside. Melt butter in a skillet over medium heat. Sauté onions until soft, then add eggs, stirring as you go to scramble them. Once the eggs are almost set, throw in the chopped tomatoes and feta. Cook until the cheese is melted, and then season with salt and pepper if desired.
Twists on Eggs Benedict
This is a "fancy" breakfast at a restaurant, but it's easy to prepare at home. There are four basic layers to the classic recipe: an English muffin, Canadian bacon, a poached egg, and then hollandaise sauce. Hereare a few ways that you can take this classic up a notch!
Use prosciutto, sausage patties, or American-style bacon in place of Canadian bacon.
Or go with some seafood options to replace the bacon: scallops, lobster, shrimp, or crab cakes.
Try a different type of bread for the base – such as corn bread, pita bread, a bagel, or just toast.
Add some veggies to the mix: spinach, asparagus, artichokes, or mushrooms are great options!
Never liked Eggs Benedict before because you don't like runny eggs? Fry them instead.
Variations on Egg in a Hole
You've likely heard of the basic "egg in a hole" recipe, also known as egg in the basket, egg in a boat, or bird's nest. It's simply an egg fried into a hole of toast. (If you have kids, you can also use cookie cutters to make the shape more interesting – like a heart or a Christmas tree.) But why stop at toast?
California-style Eggin a Hole – Slice an avocado lengthwise (removing the seed of course!) Then heat the slices in a little bit of oil on a skillet. Crack an egg into the center of each avocado slice. Cook for 2 to 3 minutes over medium heat - or until the egg is set.

Flower Eggs – Do the same for slices of Bell Peppers. The final result will look like a daisy with the curves of the bell pepper appearing to be petals.

Onion Eggs –Slice up onions, and separate out the rings. Cook the eggs inside the individual rings.
What are your favorite, fun egg recipes?
Photo Source: Little Blue Hen