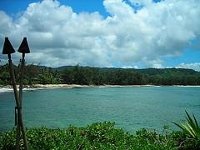 Do Hawaii, Just Not Presidential Style
Image by Dazzx via Flickr
With the headlines screaming about the President having spent overg
$4 million dollars on a recent Hawaiian vacation
, admittedly his exorbitant expenditures can serve to prove a lesson to us all on reducing costs and still enjoying the luxuries of an island vacation. You too can stay in an amenity-filled home without all the extemporaneous presidential-like fees tacked on. Planning a budget-friendly getaway to the Aloha islands is not hard. Save yourself a bundle and wear your lei with a sense of serenity vs. a foreboding fear of the credit card statement lurking in the mailbox upon your return home from your Hawaiian vacation.
Travel at Off-peak Times
The President and his Mrs. spent $3.2 million on their airfare alone. By choosing to travel when it is not peak season, you will save yourself a bundle. Airlines offer much lower fairs during off-season times. Plus, commercial airlines tend to be much cheaper than Air Force One which costs about $182k per flight hour.
Stay Inland and at Home
You can stay in accommodations--a home or a condo--like the Obamas did for a fraction of what they spent. Beach front housing for the Secret Service and the Navy Seals cost a whopping $16,800. Instead of opting for that beach front acreage, choose a property location that is inland and it will save a hefty amount of money. Beach front accommodations can double the price tag on a rental.
Staying in a home or a condo affords you additional savings that a staying in a hotel or motel would not. All the amenities needed for your vacation will be right on site. Instead of having to travel to a laundromat, for example, your laundry can be doing a last tumble dry in the washer and dryer a home or condo traditionally will offer while you're beach hopping.
Live Like a Local
While you are enjoying "living" in Hawaii instead of staying in a hotel, forgo expensive restaurants and instead visit local markets for seafood or fresh produce that you would not be able to find on the mainland. Prepare it at your leisure in the kitchen of your rental home or condo. Eating out for every meal can quickly run up a tab that will prove staggeringly high. If you want to sample area restaurants, choose one meal a day to dine out. Lunch is often the best meal to choose, as you can enjoy the same entrees offered at dinner at a reduced cost.
Naturally Take in the Sites
Hawaii is known for its panoramic views, spectacular sunrises and sunsets that can take a person's breath away, and for its nature trails. Instead of booking a pricey excursion tour, map out one for yourself. Many of the trails and views you will be afforded will not include a price tag.
Go ahead! Travel to the Aloha State just like the Obamas did, but do it at a faction of the cost they incurred while staying there. You will find your visit a lot more relaxing when you aren't spending a more than you have in your bank account.