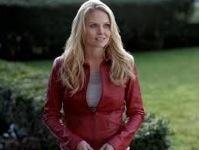 Once Upon a Time, There was a Woman Who Liked Leather Jackets
Once upon a time in the small town of Storybrooke, the daughter of Snow White drove around in a yellow beat-up Volkswagen Beetle. Wait what, put the brakes on here, rewind. What was that, Snow White's daughter? Yes, it is true. Emma Snow dragged into this twisted little town by Henry, the son she gave up for adoption. Whoa, Snow White had a grandson. Shut the front door! Take a breath, take a moment, you will catch up.
It gets better. Emma is Storybrooke's only chance to restore a happily-ever-after ending for all of the fairytale residents. If Emma battles the Evil Queen who placed the curse, then she will do it in style. Emma loves to wear leather jackets.
Will Emma Snow defeat the Evil Queen? Only time will tell. Which leather jacket do you think would look best on Emma?
Charli "Chuck" Gulley is a screenwriter, filmmaker and freelance writer who lives in Southern California. Quite the tomboy, she enjoys Rugby, Fencing and touch football. She's an alumnus of the prestigious screenwriter's workshop, "Writers Bootcamp." Her passion is Hollywood, anything and everything to do with filmmaking. If you don't find her on set, you can find her at the arcade playing air hockey and eating pizza.