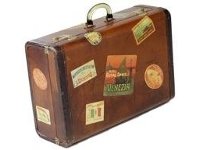 Packing Light
After my luggage was lost on my last flight, I vowed to try to make my next trip with just a carry-on. This might sound like a small feat, but for someone as indecisive as me, it isn't. ("What if I want to wear the boots instead of the flats? I'll bring both. And the t-straps. Just in case.") Sure, I packed lighter when I was younger, but I usually ended up looking like a grungy teenager.
Since tomorrow I'm headed to San Francisco for Save Up, I grilled friends, scoured the web for packing tips, and hit up fashion magazines for the best advice on packing light while looking right. As always, I found a way to make sure your biggest travel expense is your plane ticket, not your wardrobe.
Check out the inexpensive options and the money saving coupons on these perfect travel companions:
Plan Ahead
Dressing in the same color scheme keeps outfits coordinated and fresh. Try a palette of just black, grey, white, and red. That way, everything matches, and the combinations are endless. Stick to jersey fabrics and denim that don't wrinkle; they're easy to wash if needed and are super comfortable for travel.
Key Pieces
Jersey dress - A jersey dress can be dressed up or dressed down and doesn't wrinkle in your bag. Try one from Old Navy where you can save 30% and get free shipping with this Old Navy code.

Shawl - A shawl provides a pop of color, keeps you warm on the plane, and can be fashioned into a top. Try one pictured in the set above or this one from American Apparel which can convert a dozen ways.

Ballet Flats or Converse - One pair can do it. As for me, I love the look of Converse with dresses, but if you've got a work event or a big night out planned, a pair of lovely ballet flats are comfortable and versatile like the Kimchi Ballet Flats from Urban Outfitters. As you trim down your footwear, trim down costs as well with one of our Urban Outfitters coupons.

Jeans - Bring your favorite jeans for the perfect sightseeing simplicity. How about a pair of Flare Fit jeans from Martin + Osa? They're dark wash and cool cut can take you from day to night without a hitch.

Cardigan - A long cardigan like the one from the set can work as a sweater or can be buttoned and belted to act as a dress over leggings.

Leggings - A simple pair of leggings folds up to the size of a pair of socks and helps you cope with unexpected chilly nights. Try a pair from Target and save with one of our Target coupons.

Tee - A simple, light jersey tee can be layered under your dress or worn with your jeans, and washing and drying are a snap. And they're super cheap when you buy from the Gap using our Gap coupons.

Necklace - Dress up all of the above looks with a smart, funky necklace like this Noir necklace from Alloy.

Thick belt - One thick belt in a pop of color can change the look of your dress, update your cardigan or tie together your jeans and top.
Pack Right
A big part of only bringing one bag is the way you pack. Try bundling your clothes or use a vacuum pack kit to reduce space.
Throw your gear into an expandable duffel like the Kiva Expandable Duffel from Luggage.com. It's comfortable and the perfect size for an overhead compartment. And, instead of your usual handbag, try a bigger tote like this Merona Bird Print Core Tote from Target to hold your plane read, a few toiletries, your makeup bag, and a sandwich for that plane ride. Trust me, you don't want to spend $16 on a wilted airplane salad.
Happy trails, bargain hunters! Don't forget to follow me on Twitter @SavingsMBones for the best beauty deals on the web. And feel free to add your tips for traveling light in the comments...