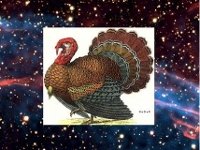 Pardon Me, Let's Put A Turkey Into Outer Space
An Open Letter To The Aerospace Community:

I am writing on behalf of Savings.com, a coupon and deal website that helps people save money at thousands of retailers. In these economic times, while we're focused more than ever on helping consumers save at their favorite stores, it's come to our attention that another American institution may need saving: the Thanksgiving turkey pardoned each year by the President of The United States.

As aerospace contractors, I'm sure you're well acquainted with the toxic climate in Washington that threatens our country's ability to meet its obligations foreign and domestic. Likewise, our retail analysts have begun to suspect that because of this political acrimony the White House may be hesitant to promote a culture of "non-consumption" (i.e. the well-publicized sparing of a perfectly plump and tasty turkey) before the crucial holiday shopping season.

We do not wish to cast aspersions on the fine civil servants among their ranks working tirelessly to strengthen our economy. However, we cannot stand by while the bird that symbolizes our most cherished national holiday is threatened. So let's talk turkey. We propose that our companies, working in a to-be-determined clandestine capacity, put forth an effort to deliver a single turkey into outer space, perhaps the only place we can guarantee safety for the species . Wouldn't it be nice for the American public to know that at least one bird has been pardoned this Thanksgiving?
We're not rocket scientists. You however, are. As such we're sure you'll have lots of great ideas around the nitty gritty details of this endeavor (kind of rocket to use, how to deliver oxygen, nutrients, water etc. to the turkey). For now we're promoting the vision for this undertaking and reaching out to the finest space and aeronautical talent in our nation for assistance.
We're simple people who get our satisfaction helping folks save a buck or two. But as we've considered this dilemma, we've decided that when it comes to our feathered friends "planet earth is blue, and there
IS something we can do
."
Please let me know if you think this is something we can achieve together.
Good tidings,
Seth Barnes
Savings.com