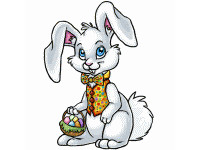 Best Store You've Never Heard Of: Patchi
What's that sound? Do you hear it?
It's the hippity-hop of that sneaky little Easter Bunny creeping up on us again...
Fear not! This week's
Featured store
is sure to keep you ahead of the hare in the race for the perfect Easter chocolates.
Mmmm...
Patchi, anyone?
Since the opening of their very first store in Lebanon back in 1974,
Patchi
has taken the world by storm with gourmet chocolates fit for a king but affordable for the masses.
The glorious love of candies and sweets discovered and cultivated by the company's founder, Nizar Choucair, at the formative age of 11 has turned into a passion for creating confectionery masterpieces that fit in the palm of your hand and melt your heart with original and innovative mixes of the finest ingredients that are sure to tantalize your taste buds.
Whether you love dark chocolate, milk chocolate, hazelnuts, pistachios, almonds, giandua or even more exotic concoctions, rest assured that Patchi chocolates are always 100% fresh with no preservatives and no artificial flavors--just 100% mouth-watering goodness at prices that will only up the Drool Factor.
So get a jump on the Easter Bunny this year with a few of our
Patchi coupons
right here at Savings.com and snatch up a box or basket full of heaven.
Exclusive:
10% off Sitewide
(exp 4/18)
Other Great Deals:
Save 15% on Any Purchase
(ongoing)
Shop Special Offers and Save 20%
(ongoing)