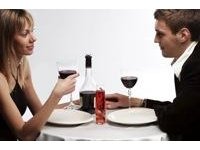 PerkStreet: 5 Dating Tips to Assess Your Potential Partner's Financial Acumen
What are the three most important things to you when it comes to finding love? Unfortunately, financial prowess is not likely one of them. If you're looking for
true companionship
, money-mindedness is a good thing to consider. After all, if you'd like to eventually sync lives with this person it would be a good thing if they weren't a total drag on your own stability.
Here are five quick tips for measuring a date's financial acumen on the fly:
Pay attention to the way they talk about their career
If there's anything that should matter when it comes to evaluating a serious prospect, their thoughts on the future are it. Pay attention to the way your date talks about his or her career. If they're sheepish or not confident--at least about what they want--they're not likely to have well-formed opinions about what they want from their financial future in general. Setting yourself up for a comfortable life and a quality r
etirement is about planning
well enough to execute your plan. Sometimes, it's just good to know what you want.
Ask about their housing situation
Talking about living situations is natural. Asking about income is not. Use this. They say stereotypes happen to be for a reason. If you're out on a date and your suitor is still living with their parents with no plans to move out, or without a good reason, it's probably because they are simply not financially independent. Picking a partner who can swim alone will make sure the two of you can move even faster in tandem. But picking up a sinking ship will only mean having a dead weight to drag around later.
Watch for excuses when the check comes
One of my co-workers at PerkStreet Financial went on a date recently and her suitor literally said, "
I'm not willing to pay because I don't know you well enough
," while they were out on their first date. Is this an excuse? Unless the date was a crazy person, yes! My advice? Give someone who has an excuse about not being able to pay a second chance, but if they're unable to successfully plan their finances well enough to show you they care by footing the bill for part of a planned date, they're probably not good enough with money to plan a wedding with you.
Beware of someone who's insistent on paying
A date unwilling to pay for anything in this modern era is a bad sign, but a date who insists on paying for everything is also cause for concern. Having problems with money doesn't just mean not having it--someone who has no
understanding of the value of money
or spends frivolously can be equally hazardous in a relationship. If they carry a lot cash or talk about money a lot, keep an eye out. And someone who is boastful about how much money they have is unlikely to appreciate your generosity. Someone who's savvy about money will be equally deft when it comes to thanking you for offering to pay for a cab ride or movie ticket as they are at offering to pay.
Money is an important thing to consider when it comes to finding a partner. Pay attention to the way they talk and act when it comes to money, but don't be overly analytical. Relax. Have fun. Isn't that what love is about anyway?
And no matter what you do, remember: Savvy dating is not about finding someone who's rich. It's about finding someone who's not a financial risk. Beyond that, focus on the stuff that really matters, like all the things you were thinking about at the beginning of this article!
Kyle Psaty is the editor of the PerkStreet Blog, which offers daily tips and tricks for saving money and budgeting better. His company, PerkStreet Financial, is committed to fixing banking one customer at a time with products like their Unlimited 2% Cash Back Debit Card!