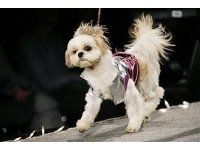 Pet Shop: Canine Couture is Whole Other Dog Show
This week, The Fashion Institute of Technology held a fashion show--for dogs. Yes FIT, perhaps the premiere fashion institute in the country, now has a program specifically for pet product design. And this fashion show did not screw around. Oh no--some of the memorable designs included a motorcycle jacket, a bomber jacket, a camouflage outfit and a sequined gown.
These are fashion items I don't even own (
and lust after
) and they were all for the dogs!
This got me thinking about the business of pet clothing in general. Being a dog owner myself and, I like to think, a fashionable one at that, I've never purchased anything beyond a bandanna for my pet. That said, she has been gifted a chic rain coat which she absolutely loathes wearing. Her aversion to couture notwithstanding, the pet fashion industry has grown into a multi-million dollar enterprise.
According to
ezinearticles.com
, last year the pet supply industry made $34 billion dollars, and
Petsmart
alone revealed profits in the $38 million dollar range--and this is in the middle of a recession!
Further examining fashion trends for dogs, my eyes were opened to the items we might typically buy for ourselves and are now buying for our dogs. Check out these
doggie hairpins
from
Glamour Dog
which will run you somewhere in the vicinity of $8 a pop.
Then there is the trend of dog jewelry. Turns out diamonds are not just a girl's best friend, but also her dog's.
Swarovski
dog collars and, yes, necklaces are the featured item at
Doggie Designer
. The prices here are not too bad, ranging in price from $60 to $70--but if you'd really like to spend some dough, buy your pet some
Christian Audigier
accessories. If you want to carry your dog in an Audigier, you'll have to part with upwards of $300 bucks.
So, the question is, would you part with your hard-earned dough to keep your dog in the haute-est of fashions? Or perhaps you've already succumbed to doggie fashion trends and you have some favorite places to shop? Leave us a comment about your thoughts on doggie couture and for more fashion deals follow me
@CoupieSavings
on Twitter.