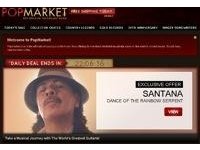 Pop Market Provides Music Deals of the Day
This week we wanted to focus a bit on the online options for discount music. In our efforts to find the best deals, we came across a great site and were even able to procure a very sweet deal for our readership in the process.
We recently signed up for a new website called
Pop Market
. Created by
Sony
Music Entertainment, Pop Market offers daily deals and deep discounts on popular music including box sets, special artist collections, and links to special offers at Sony Music Digital and Icon.
Available products are separated into categories that change weekly. One week the focus might be on jazz, hip hop, heavy metal, classic rock, and blues. The next week the categories--or "channels"--will shift to include other genres such as country or something perhaps encompassing a particular musical era.
The daily deals last for a 24 hour period and can only be viewed in their entirety if you have a membership. Membership is free, but is required to take advantage of all the exclusive offers.
As mentioned, you'll find deals on their site for artist collections, collector crates,and various bundles from top musicians including Johnny Cash, Miles Davis, Elvis, Billy Joel, and much more. The Collector crates include a crate including a shirt, CD, and a crate with the artists name. The Artist collections come with three of the artists top albums. You'll also find collections of Jazz, Classic Rock, and Country with the top songs that define those genres. The deals will usually last a week, save you about 50%, and include free shipping.
If you're more of a harder rock or heavy metal fan, there have been collections for such prominent bands as Metallica and Lamb of God. The latter recently seeing an Hourglass Stocking Stuffer set that included six of the band's albums on custom USB sticks stored in a cigarette styled case. The set also included the Hourglass: The Art of Lamb of God book. This item, which usually retails for $149.99, was available for one day only via Pop Market at just $49.99.
This perfectly illustrates the awesome savings benefits to members. $100 off much sought after music collections is the norm here and is the perfect site to peruse as you're looking for that ideal gift for the music lover in your life. Previous daily deals have focused on such diverse artists as Ozzy Osbourne, Michael Jackson, Miles Davis and Aerosmith.
When you head over to sign up, be sure to grab the exclusive code we were able to get from them. Save 10% off your purchase with this
Pop Market coupon
through the end of December.
For more great deals and discounts, follow us on Twitter
@savings
.